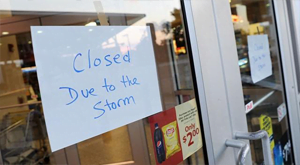 Business interruption occurs when an incident such as lightning strike, hurricane, power surge, water damage, flood or break-in, cause your business to cease operation, resulting in you losing money.  However, just because you cannot open your doors and even though revenue stops, it doesn't mean your expenses will stop.  You still may have payroll, car payments, rent, etc.  You may even have to temporarily relocate your business.  To protect your business from this interruption in revenue, you may have purchased this important and specialized coverage known as "business interruption" coverage https://en.wikipedia.org/wiki/Business_interruption_insurance.  Business interruption insurance can cover your losses of revenue which your business would have normally realized.  Furthermore, business interruption insurance usually covers you for a finite period of time, so the coverage period could be for two weeks, one month, three months worth of coverage, or any amount you purchase.   If you have a business owners policy (BOP), and you are unsure if you have this important coverage, we would be glad to take a look at no charge to you, and let you know.   Often times the coverage is included in a BOP, but sometimes you have to buy it separately.
Thus, business interruption is a specialized type of claim which will involve a history of your company's revenue over the prior years. This often leads to speculation: How much money would your company have earned if it never experienced the interruption in the first place? The process involves putting together a claim, using the available data of past profit and loss, including special calculations for workers, board members, and taking into account, extra fixed costs which continued occurring during the loss period.    I encourage you to let a professional public adjuster look at your claim before you let your insurance company handle it.
My office has experience with these types of claims and has the benefit of collaboration with tax specialists in order to get these tough claims resolved fairly.  You can call my office direct at 954-659-8600.