Flood Damage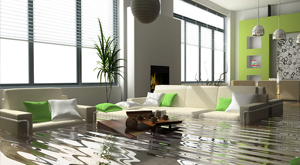 When water rises up from the outside and comes into your property, this is the formula for flood damage and a resulting flood damage claim.  An actual flood can be caused by a levee breach, a storm surge, or even just a flooded street due to rain.  Often times, homeowners insurance companies, and flood insurance companies like to pass the responsibility to one another.
This happens when it's not clear if the damage is due to rising water, or driving rain.
Flood damage claim? Call 954-659-8333.  You shouldn't Delay!
How would you like to be in the middle of a Flood Policy vs Homeowners Policy Battle? It's important to note that your homeowner insurance is not responsible for a true flood. It is also important to note that your flood policy is not responsible for burst pipe damage inside your house.  This can get confusing if the cause of the damage is not clear.
Subsequently, this back and forth arguing will result in your claim being dragged on for a very long time.  Presenting your claim properly is the key to preventing this issue from happening in the first place.  How do you do this?  You need your own adjuster who can argue the cause of the damage, properly prepare your claim, present it to the correct insurance company, and get it settled correctly for the highest amount possible.
Let us fight it out for you.  Call our main number at 954-659-8333.